✨ Limited Edition Handmade Hats You Feel Simply Fabulous Wearing.✨
Our Philosophy
Is simple, we create beautiful, sexy and sophisticated hats. Statement quality pieces designed for the modern woman to wear now and for years to come.
All of our hats are handcrafted with premium natural materials and intricate detailing.  We produce extremely limited numbers of each design and each hat is individually finished on your order to ensure its uniqueness and exclusivity to you, after all, you too are unique.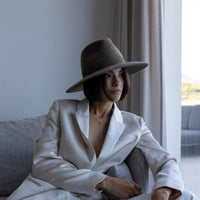 Customer reviews ⭐️⭐️⭐️⭐️⭐️
JUST WOW

I recieved this amazing piece as a delivered gift. 
The presentation of the box and personalised note was such a lovely touch. The attention to detail was amazing, making for a very special and memorable gift ! 

The hat is made of such gorgeous material and I love the colour - a quality timeless piece that I will cherish for years to come. I would highly recommend .

Heather
This is my favorite brand by far

The fit and the quality is just exceptional. I LOVE this piece and I wear it almost every day. Can really recommend this brand to all hat lovers out there





Mie Damgaard
What a beautiful hat!

I am so pleased with my hat it has the perfect shape, so beautiful. My husband loved it on me! I also loved Grace support and help with reservation and delivery issues. Perfect product, perfect shop and perfect team. Thank you so much!

Teresa O. L. 
Clement & Grace 

This is my 5th hat I have brought from you over the last year, love them all.
I'm a massive fan of hats, always have been and you are now my go to brand. 
Chatted with the owner Grace several times and blown away by the level of care and service given by such a small business, well done, keep up the great work!

Best, 

Sandra xx

Sandra Kemp
My hat arrived a couple of weeks ago and have worn it everyday since, it very light and airy and looks great on. Received so many compliments when out and about, actually feel quite special when wearing it. 😊 Really pleased with my purchase!

Audrey Martino
Love, love, LOVE this colour!!! So different to anything I've seen before, have it a couple of weeks now and surprised how much it goes with in my wardrobe, very happy with my purchase. 
It's well made and with the lovely box and dust bag should have it for years to come. Highly recommend.

Melanie R.